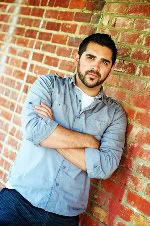 This guy does
good
great work. Ryan is one part philosopher, one part visual architect, and one part artist. He shoots a lot of weddings (gotta pay the bills, right) but is going to make a big splash on the music scene with the way he can capture sound, movement and experience with his lens.
I've had the pleasure to know Ryan for about 6 months. In that time, he has proven to be a great asset to the community, a lover of local music and supporter of most things local. He pours himself into his work and says that he has a nasty habit of becoming friends with his clients (not really a bad thing, right?).
Ryan C. Jones, owner and primary photographer, RCJones Photography
Commericial, Creative Portrait, Wedding Photography, Music Industry Photography
He aims to do more than merely take a picture. Ryan will tell a story that is meaningful, creative and just a little different than what you might expect.
He is a boomerang. Ryan moved to Southern California with the intention of never coming back, but after seeing the progress of the artistic and photographic community in Fresno, he made the decision to move back after three years away and hopefully help raise the bar for what's considered good art in the Central Valley. He's been back for a little over a year and a half now and, in his words, "it was hands-down the best decision I've ever made."