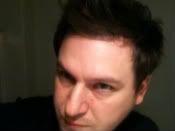 I know Robert looks pretty intense in this picture, but that's because he is am intensely talented geek. By day he pounds away developing and writing code. By night he still pounds away on code, but makes time to take in as much music as possible and enjoying the view from his fabulous downtown loft.
Robert is very active in the local tech world and he helps to actively build and organize the talent we have available. He one of those smart guys who might be intimidating to some, but he is very approachable. Almost every day I hear people say that they cannot find programmers in the area. My answer to them is, "look no further."
Robert Schultz -- Senior Developer for ShoWare an online ticketing solution based in Fresno, California
Robert specializes in Microsoft related software technologies, web-based development, brand development through software, changing the world through code.
Robert has the ability to identify trending technologies and to adapt to the software world as it evolves.
Born and raised in Fresno, Robert has lived here for approximately 20 years of his life. Despite moving to the bay area for a while, he has always called Fresno his home. There is a huge untapped market within Fresno for software startups and with the help from some creative professionals, Robert thinks we can
put Fresno on the map
(add this to the list, Mike Oz).