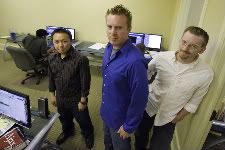 Today it's a trifecta of coolness...a threesome with swagger. The fellas at Spline Motion Studios are funny, talented and appropriately geeky. What is better than working with 3D masters who enjoy a good beer, watch cartoons and refuse to tuck in their shirts?
From 3D renderings to crazy animation to interactive websites, Kengi, Miles and Eric can make your dreams a (virtual) reality. They are currently looking to break into the feature animation department. Spline Motion can be Fresno's very own Pixar. I'm sure the guys would enjoy that. So stop sending your 3D work to India and Canada, and give these guys a holla.
Kengi Her, Miles Wilhelm, Eric Spikes - Partners, Spline Motion Studios
3D Animation, Interactive Web Apps, Product Visuals
These guys visualize what can't be seen, hasn't been created or you wish existed.
Kengi fought hard to come to Fresno from Laos, Eric left Hawaii for Fresno and Miles has no place else to go. But they all have faith in this city. While most other animation studios are in the big cities getting lost in the mix, Spline Motion is rocking downtown Fresno trying to make a big noise and having fun while doing it.