So on Saturday, January 9, 2010, I had the privilege of being one of the acts for the Beehive Birthday Bash held at Full Circle Brewery. This was the largest crowd in front of which I have ever performed magic. My estimation was somewhere in the neighborhood of 150 to 200 people (granted many of theme were waiting in long lines for booze). I put together a set that played into the carnival theme of the night. I had to, I follow a guy named Scurvy who ate fire and set his areolae ablaze.
I've included video clips from some of my routines. The room was very loud so the audio may be difficult to hear, but I assure it was one hell of an experience.
Fire Eating (booze + fire = fun)
*technical difficulties with the damn candle
Guess the Emotion (oooh my psychic powers)
Wooden Penetration (that's really what it's called)
Crucifixion (went a little far with this one)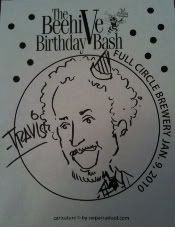 Thanks to all my volunteers:
Conlan
(not shown, but very important),
Josh
,
Chloe
,
Kimburly
, Jay & Marty (I may have messed up on that last name).
BTW, if you didn't see the
prize list
, check it out. I beat
Mike Oz
in an epic battle of Paper, Rock, Scissors. The community really stepped up for this one.