Ok, my tattoo has been pretty well documented. I really want to thank the folks at Tower Tattoo for donating the tattoo in the name of fighting hunger. I wish I was a better steward of the ink. In the midst of incredible excitement, I did not fully listen to the post-tat instructions. I put Saran Wrap on it to keep it clean while I slept.
Bacteria grew...and grew...and grew.
I took a picture of the infected art, twitpic'd it, and was bombarded by a string of responses that made me think it was only a moment of time before my leg would be amputated.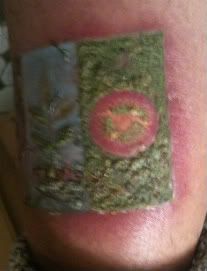 @Travis Sheridan
Fighting Hunger earned us $100k...I just hope it didn't cost me a leg... #shootmeintheheadlikeahorse http://yfrog.com/h7rxcwj