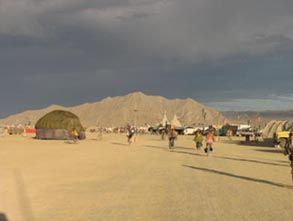 So the 10 hour drive was the beginning of the adventure. The top was completely off the Jeep and it rained the night before the journey. Actually, it was still raining the morning of the trip. No worries. It's about adventure. On the drive to Black Rock City, it rained most of the way to Sacramento, was 108 degrees in Sacramento, rained and hailed through the mountains into Nevada, and then there was the dust of the playa. Perfect. All this was necessary. It was all part of the experience. My experience. Remove any one element and the experience would be different from the start.
This leads me to think about brands. Where do they come from (or do sound smart, from where do they come)? Burning Man is about arriving and experiencing. Can brands be built and understood the same way?
Come Home.
You have to consider the playa "home" while at Burning Man. It is your environment--your new 90201 or Kansas or Harper Valley. Brands must be built so people can "own" them, bask in them, turn them into a home. They need to be inviting regardless of the journey to get there. In fact, the more difficult the journey (rain, heat, hail, dust), the more refuge the brand must provide. Refuge does not mean shelter. Refuge means safety and acceptance. A brand must meet the personal need of the explorer.
Come Live.
So maybe I did something wrong when I arrived at the Devil's Bunghole. I set up camp (made myself at home) and instantly jumped on my bike to experience the playa. I was told that I needed to take it slow and acclimate to the ways of the playa. I wanted to go and go fast. So I did. Brands have to be livable. They have to be ready for people to jump in without fully acclimating to the brand.
Come Enjoy.
That first night rocked. There were art cars, lots of FREE booze, friendly (very friendly) people, and multi-sensory stimulation. Everywhere I looked I was seeing something cool. I was fully enveloped in Burning Man. I know that a particular brand is generally designed to meet a particular need. But I think brands can fully envelop a person. I should be able to find enjoyment on multiple levels. This is very important as a person first interacts with a brand: I bought brand X for this purpose, but look at how it has positively impacted this other area of my life. Burning Man was full of positive unintended consequences.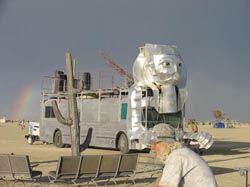 Come Home. Come Live. Come Enjoy. Each were important as I first arrived at Burning Man. It is also important to note that I had my own set of expectation of what would occur when I arrived on the playa. I had my own definition of home, live, and enjoy. It was up to Burning Man to meet, fail to meet, or exceed my expectations. This is more than a Burning Man or branding philosophy...this is a way to approach life. Assimilating these lessons in other areas requires a lot of trust, but that's a story for another day.
Final Thoughts (coming soon)