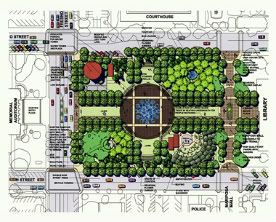 A recent story in the Fresno Bee, post on the Beehive and subsequent discussion that ensued has prompted me to remind everyone involved to open the Fresno Brand Platform Workbook. The City of Fresno is fixin' to cut down some trees in Eaton Plaza and people are in an uproar. Has the City pissed off tree huggers? Are tree huggers looking at the bug picture? My answer to both of these rhetorical questions is "I Don't Care." You see, I would rather use the issue of diseased (allegedly) tree removal as an opportunity for brand reflection.
Land Stewardship

Authentic America

Big City Amenities

Small Town Ease

Diverse Culture

Spirit of Innovation
Well, well, well...it looks like the issue of tree removal is totally against being good land stewards, right? Not necessarily. If the trees are truly diseased, then it is in the best interest of the land to remove them. If the trees use an unhealthy amount of water, then maybe a different (more drought tolerant) type needs to be planted. I think the solution can be found by engaging all six pillars and not just one.
Fresno will achieve it's goal of an improved image, if and when people start using the pillars as a way to hold others accountable. Use the language.
The cool thing about the brand is that it can be used beyond marketing. These pillars should be used to shape policy, impact budgeting, and develop employee relations programs.
Living the brand is not about clever messaging.
So, what decision should be made about the trees? Use the pillars in your justification.